Wolfgang Puck K Cups are now here for you to enjoy. Currently there are twelve different varieties of blends, roast levels, and single origins to choose from. Below you will find a simple breakdown of these wonderfully tasting K Cup Coffees that you will want to keep stocked for your enjoyment.
Wolfgang Puck Chef's Reserve Colombian Dark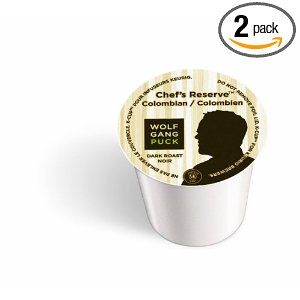 For those who love coffee from the South American region of the world, roasted at a dark level, you will truly love this K Cup Coffee. Paired with a rich dessert, you will simply enjoy the taste of this brew.
Wolfgang Puck Estate Grown Coffee Chef's Reserve Colombian Decaf
This K Cup Coffee is a medium roasted coffee and fully decaffeinated for those who are unable to have caffeine or those who would like to enjoy a cup of coffee in the evening without staying awake all night.
Wolfgang Puck Breakfast In Bed
As most consumers consider this Wolfgang Puck K Cups to be on the lighter side of a coffee roast profile, those who desire a non-acidic coffee will be thoroughly satisfied with the taste and flavor of the Breakfast in Bed K Cup Coffee.
Wolfgang Puck Rodeo Drive
With a name like this, you know that it has to be good. The Rodeo Drive K Cup is a classic coffee roasted at medium level with no bitterness and extremely smooth from start to finish. The label has a very attractive appearance and is perfect for serving at special parties and events. This is definitely one of our favorite Wolfgang Puck K Cups!
Wolfgang Puck Sorrento Fair Trade
Perfect for the coffee consumer who is environmentally conscious, this fair trade coffee is roasted at a medium roast and has several different distinctive flavors. Not only is this K Cup Coffee not bitter, it also as an attractive mouth feel and lots of body, making it an enjoyable and satisfying cup of Joe.
Wolfgang Puck French Roast
When it comes to choosing a dark roasted coffee, the Wolfgang Puck French Roast has a deep flavor with a hint of sweetness.  The bold flavors this French Roast has to offer stands out tremendously with each sip.
Wolfgang Puck Hawaiian Hazelnut
If you are a Hazelnut fan, you will want to take the opportunity to give the Hawaiian Hazelnut K Cup a try. Given the unique Hawaiian coffee twist with the exact amount of Hazelnut added to make an exceptional hot coffee beverage.
Wolfgang Puck Estate Grown Coffee Crème Caramel
If you are searching for a guilt free dessert with coffee flavor, then you have found it all within a single K Cup when you brew a cup of Crème Caramel. The sweetness that can only be tasted of a rich caramel along with a slight hint of gourmet vanilla ice cream flavor is what you will expect with this K Cup Coffee. Serve this coffee with a dessert or enjoy as your dessert!
Wolfgang Puck Sumatra Kopi Raya
Coming to you from the well known country of Sumatra, this dark roasted coffee is full of body and has the flavor most dark coffee drinkers are searching for.
Wolfgang Puck Vanilla Francaise
When considering a K Cup Coffee that has an extraordinary coffee flavor with just a hint of vanilla, then you will indeed enjoy the Wolfgang Puck Vanilla Francaise. This flavored coffee has a subtle flavor of vanilla so that you can experience the best of both worlds.
Wolfgang Puck Jamaica Me Crazy
This flavored coffee comes with a name that is sure to bring a smile to any coffee drinker. Unlike other flavored coffees, the Jamaica Me Crazy K Cup has several different flavors all nestled within this single K Cup. If you are searching for something unique, then this is one of the Wolfgang Puck K Cups to try.
Wolfgang Puck K Cups Are Some Of The Finest
Each Wolfgang Puck K Cup Coffee comes with everything you expect from this well known name and specialist of culinary arts. Acknowledged as the best in restaurant hospitality, this famous name is best recognized for the finest when it comes to food preparation, taste, and quality. Give one of these fine Wolfgang Puck K Cups a try today and begin your Wolfgang Puck experience in the comforts of your own home.